Welcome to our 360 View Photobooths service page!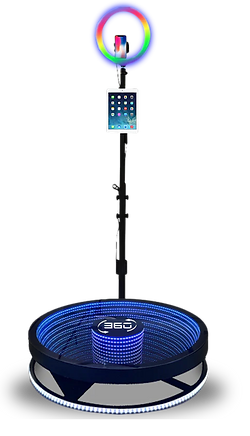 We're excited to share with you all the details about our 360 view photobooths rental services and how we can help make your event unforgettable.
At 360 View Photobooths, we offer a range of photo booth options that are perfect for weddings, corporate events, birthday parties, and more. Our photo booths are designed to be fun and easy to use, and come equipped with high-quality cameras, professional lighting, and a variety of props and backdrops to choose from.
WHAT TO EXPECT FROM OUR FUN PHOTOBOOTHS
Modern photo booths use high-quality cameras and lighting to capture crisp, clear images. You can expect professional-grade photos that look great and will last a lifetime.
Most photo booths come with a variety of props and backdrops to choose from. From silly hats and glasses to themed backdrops, there's something for everyone.
Customizable overlays and prints
Many photo booth companies offer customizable overlays and prints that can include your event's name or logo. This is a great way to personalize your event and create a keepsake that your guests will treasure.
We have professional attendants at each event to ensure everything runs smoothly. They'll set up the photobooth, help your guests with the props, and make sure the prints are high quality. You won't have to worry about a thing!
We'll provide you with digital copies of all the photos taken at your event. You can share them on social media, print them out, or keep them as a digital keepsake. It's a great way to remember your event and share it with others.
Ready to book your photobooth rental? Contact us today to get started! We're happy to answer any questions you may have and help you choose the perfect package for your event. Don't wait – book your photobooth today and let the fun begin!